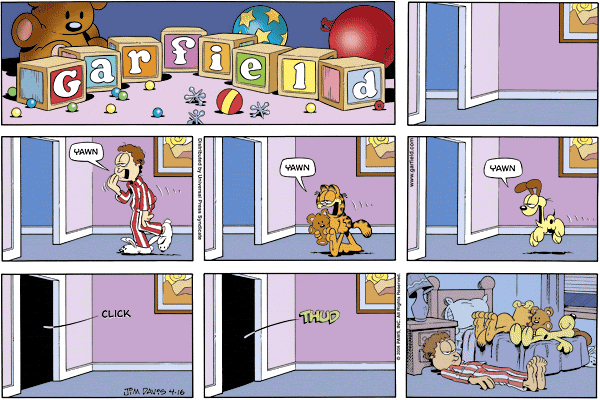 It used to be a more frequent running gag, Garfield's insistence on sleeping in Jon's bed, usually on Jon's chest as he slept, like some obese orange incubus. Other times, though, Garfield loves sleeping in a box with a blanket over his face, which are totally opposite conditions for slumber. Maybe that is too close to real-life, observable cat behavior for Garfield at this point.
This strip could easily be pared down to three panels: 1) Jon walking into bedroom, 2) THUD!, 3) pets rule the bed! But to achieve that inimitable laconic
Garfield
timing, the joke is stretched into a seven-panel Sunday strip... even though that means
the first panel is an empty doorway.
I deem this all-time Most Haunting Sunday Strip Upper-Tier!
After much scrutiny, my guess is that previously unseen painting is a desert rock formation landscape. After much scrutiny, I cannot explain why Garfield takes up 1/3 of Jon's bed when perpendicularly sprawled across it.
And thus, did Easter pass with no notice in the Arbuckle household.
Discussion Question:
Gag panel: to whom do these toys belong? Clue: Except for Pooky, they are not pet toys.