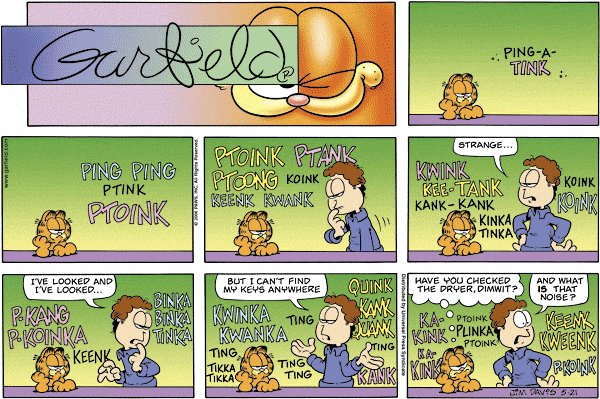 No idea what the title panel is supposed to look like. Fake airbrushing? Anyhow, I don't like seeing G-field's eyelids so shiny.
Jon's "thinking" face in the middle panel of row 2 is very funny. Actually, most of the Jon body-language acting is pretty funny.
Garfield's refusal to go to the dryer himself and remove the keys - even though the racket is irritating him - is great character behavior. I suspect he's subjecting himself to this aural torture because he's too lazy to open the dryer, but also because part of Garfield
likes
being angry and frustrated with Jon's stupidity.
Now sometimes
Garfield
backfires when playing around with a
last-panel reveal
. Today's strip pulls it off perfectly, and there's no way to guess what's going on with the sound effects, or Jon's mystery, until the very last panel. Kee-tank!