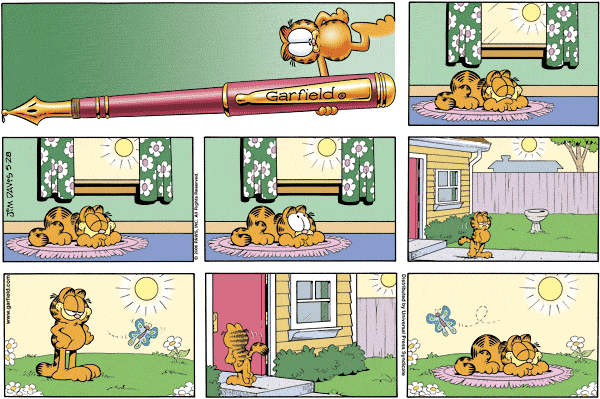 Title panel:
What's the gag here? Garfield has a giant pen with his name on it, but that doesn't stop his leg from being incompletely drawn. If this is some kind of meta
Duck Amok
joke, I can make neither heads nor tails of it.
Garfield's sudden attachment to a little pink rug is cute, but the entire substance of the gag today relies on his need to nap on this carpet. Otherwise, it's just a strip about how Garfield was sleeping indoors, then he went outdoors to sleep. The idea may have been that we'll be fooled into thinking Garfield is going to go outside and play in the sun, rather than wasting his day sleeping, but it barely comes off that way. Indeed, I had to read the strip three times before realizing that the punchline isn't "Garfield goes back inside, and dreams about being outside."
It is a strange nuance that the drapes indoors mirror the flowers and lawn outside, but I fail to draw any conclusions as to the significance of this visual echo. A conclusion I
can
draw is that since Garfield's established height is around three feet and change, that butterfly's wingspan must be just shy of twelve inches. Gross.