The drawing of Jon in the last panel is where I direct people who don't think
Garfield
is funny. Part of this is the voice I am imagining Jon affecting for this speech, which is very high and reedy.
I like the anticipation built by having Garfield react to something off-panel... but why is he more horrified in panel two, if he's already seen the hat? Perhaps Garfy's eyes are bugging out because of Jon's puzzlingly square-cornered second panel tummy bulge.
Hey Garfield, so, you're too cool for top hats, huh? So you've, say, never
worn
a top hat and tried to look cool, right?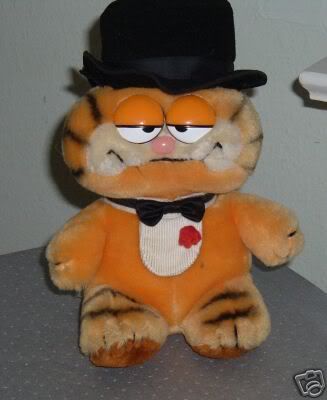 You keep dreamin', buddy.
Satin top hats like the one Jon has purchased run upwards of $250, so I hope our boy has other plans for it besides wearing it for his cat.