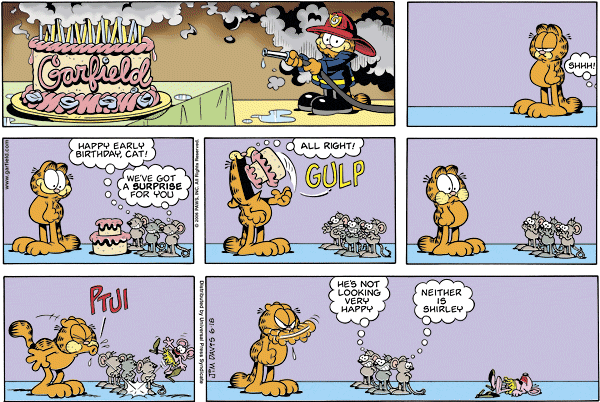 Surprising facts culled from today's
Garfield
:
1.
Mice think cats get turned on by sexy mice.
2.
Cats don't like to have mice in their mouths. Should a cat have a mouse in its mouth, the cat will spit it out.
3.
Girl mice - even though no other animals in
Garfield
wear clothes - wear heels and little black bras.
4.
Sometimes Garfield just stands around staring into space.
5.
Though the job normally requires multiple burly full-grown men, Garfield is able to control the tremendous pressure of a firehose so precisely as to put out the tiny flames of birthday cake candles without damaging the cake, and the resultant moisture only causes two tiny drips on the elaborate decoration.
6.
This gag is repeated from the June 19, 2002 birthday strip, except this time Garfield put the lady mouse in his mouth instead of just being grossed out. I guess the comics page got more permissive in the last four years. What's next? A panel about Marmaduke's balls being cut off?